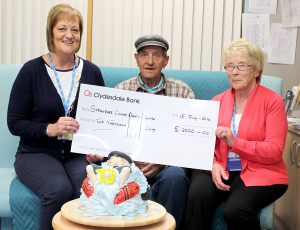 Robert Barnes of Drummore delivered a welcome boost to the Centres recently, with a cheque for £2,000.
Bob zipped down the line at Laggan Outdoor and then followed it up with water-skiing on Loch Ken, to raise this fantastic amount.
73-year-old Bob was diagnosed two years ago with oesophageal cancer, which affects the gullet. He received treatment but in January his cancer returned and he has now finished his latest treatment.
Picture shows Bob – and his amazing cake! – presenting his cheque to manager Kate and volunteer Maureen in Stranraer drop in centre